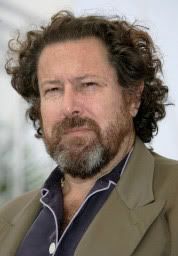 No seriously. At a screening of Julian Schnabel's ("Basquiat," "Before Night Falls") latest film, "The Diving Bell And The Butterfly," a Frenchman in the audience started asking the extremely personable raconteur Schnabel how his film was received by the French at this years Cannes - which is sort of an odd question because the average film critics at a film critics screening would generally know that the movie was extremely well-received and the Cannes jury awarded Schnabel with the Best Directing Prize.

But as Schnabel fumbled awkwardly with the question (and the audience squirmed with embarrassment) and eventually moved on, the query seemed to linger and get under his skin and later in the Q&A he revisited the subject apropos of nothing and started discussing his Cannes film festival experience.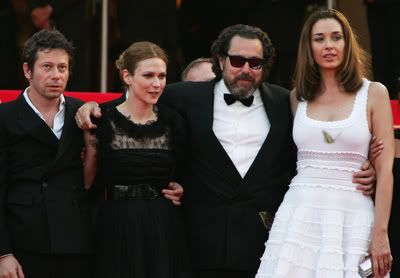 Schnabel then claimed 'Diving Bell' was originally the jury's first choice to win the coveted Palm d'Or and he was told the film was set to be awarded - until the last minute that is.. "Around 2:00 they changed their minds. That's why all the ['Diving Bell'] actresses were there," he said.

Schnabel said he had spoke to all of the Cannes Jury members and knew this was a fact, except for French actor Michel Piccoli, who he dubbed a "communist" (the jury was resided over by British director Stephen Frears). "I shook the hands of everyone I was supposed to shake except for maybe Piccoli. [Perhaps] he thought I was too successful or having too much fun," Schnabel said, but shrugged off the Cannes imbroglio implying that this was typical of all film festivals. "[They're] a political thing," he said.


It's unclear exactly what the beef between Schnabel and Piccoli was, but our take is Piccoli cockblocked Schnabel with his jury voting and Schnabel did talk about certain French critics that didn't like the idea of an American telling a beloved French story, so take that as you will.

The artist and director did tell the Frenchman that asked the aforementioned question sarcastically that winning the Director's award at Cannes was just sort of symbolic of the audiences' positive reaction. "That was pretty good," he said dryly of winning the prize.

"The Diving Bell And The Butterfly" is adapted from the memoir by ex-French Elle editor Jean-Dominique Bauby who at 42 suffered a debilitating stroke that left him entirely paralyzed save for his left eye. He learned how to communicate via a blinking method with his eye and painstakingly wrote an entire memoir about his "trapped-in syndrome" experience dying from pneumonia about a week after the book was published.

"The Diving Bell And The Butterfly" trailer

Schnabel Discusses Losing the Palm d'Or At Cannes (end of clip)