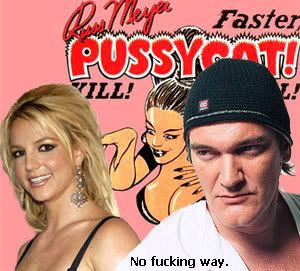 Thank fucking god and, we told you so.

Those retarded reports in the British press that said Britney Spears would play a lesbian killer in Quentin Tarantino's upcoming remake of "Faster Pussycat! Kill! Kill!" have proven to be false (gee, really?? You wonder why we're always down on the U.K. press).

A representative for Spears denied the report telling Access Hollywood, ''Though she definitely intends to explore acting roles down the road, right now she's concentrating on recording her next album.''

And a source close to Tarantino is quoted as saying, ''There is no truth to this.'' All's well that ends well. Those who don't normally pay attention can go back to the cheap seats.