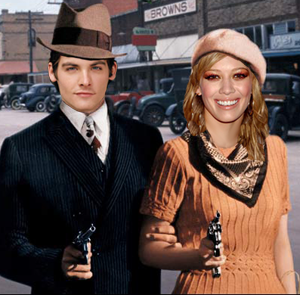 What's wrong with this picture? Maybe the fact that fucking Hilary Duff and this nobody Kevin Zegers are supposed to star in a remake of Arthur Penn's 1967 classic, "Bonnie & Clyde."

According to the Hollywood Reporter, this heresy, this impending sign of the apocalypse is true. Or at least both of these two jokers are in negotiations to play the roles.

Look, do what you have to do, Hollywood, but fucking call it something else. Call it Harold &...., no wait. How about "Oscar & Lucinda," "Melinda & Melinda," yeah you can take that. Just don't besmirch Penn, Faye Dunaway and Warren Beatty's good name. This film is too important, too influential and too monumental to be wasted on these two ass clowns. It was a watershed cinema and cultural moment in the '60s and... oh god. Don't do it.