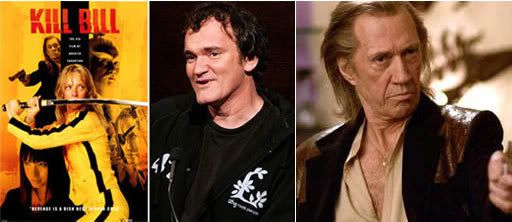 Man, when we reported that filmmaker Quentin Tarantino was talking about a potential "Kill Bill 3," project a week ago, we assumed the motor-mouthed director was doing what he just normally does: talk and talk with gregarious enthusiasm.

Asked on the set of "Inglourious Basterds" what he was doing next, the filmmaker replied, "Oh I don't have a clue, I can honestly say I don't really know. If this is a hit, I could do another version of this, or I could do a Kill Bill 3, or I could do something completely different. I'm not really sure."

We assumed this was just a hypothetical scenario or a throwaway thought, as Quentin is wont to do, but according to a Splashpage interview with "Kill Bill" star David Carradine, it sounds like this project could be a reality. Or at least still a twinkle in the director's eye.

"He planned an anime version of the life of Bill before the movie — which would have to be anime because I'm not getting any younger," Carradine told Splash. "He's also talking about two sequels to it."

This isn't the first time Quentin has discussed the possibility of "Kill Bill" sequels and prequels in the past, but it's been a few years now since we've heard a peep of that talk and again, he's also discussed fanciful ideas like, "The Vega Brothers" that ended up abandoned.


In 2004, Tarantino told EW -- before "Kill Bill 2" had even hit theaters -- of his potential sequel idea:

"Oh yeah, initially I was thinking this would be my "[

Fistful of

]

Dollars

[-like] Trilogy." I was going to do a new one every ten years. But I need at least fifteen years before I do this again. I've already got the whole mythology:

Sofie

Fatale

will get all of Bill's money. She'll raise

Nikki

, who'll take on

The Bride

. Nikki deserves her revenge every bit as much as The Bride deserved hers. I might even shoot a couple of scenes for it now so I can get the actresses while they're this age."
However, before you get too excited, even

Carradine

is pretty skeptical. "If he ever gets around to it [I'll voice the

animated

part], but he's a will-o'-wisp. If he does that, great! He's a little busy. Just doing the first ['Kill Bill'] took ten years, so who knows when he'll get around to doing the

anime

?"
But the fact that the director himself brought it up within the last two weeks makes one raise an eyebrow.