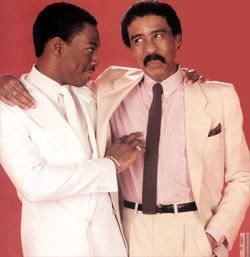 Director Bill Condon sure likes Eddie Murphy. And maybe he's good for Murphy too. In 2006 he almost rescued (and surely reinvigorated) the comedian's sullen career by directing him into a very fine performance in "Dreamgirls"which led to Murphy earning an Academy Award nomination and winning a Golden Globe. It also earned Murphy the respect of his peer group that had long since abandoned him assuming he was the guy who did stupid fatsuit fart movies (which was essentially true).

Well Condon apparently believe in Murphy's dramatic potential, because he's looking to cast the funny man in a biopic based on the life of the late great comedian Richard Pryor, himself a huge influence on Murphy's career (and every black comedian who came after him).

According to EW, Condon is shopping the scripts "Richard Pryor: Is It Something I Said?," Murphy is attached and Fox Searchlight are interested.

Apparently it was once set up over at The Weinstein Company, but Condon rescued it himself when they put it into turnaround (i.e., we don't want it). The $30 million dollar budget has reportedly shrunk to $25 million. Hey, it's the economy. Presumably, Murphy will have to take a paycut if this thing actually happens.