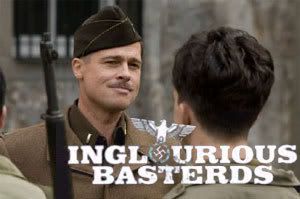 Yesterday Quentin Tarantino shocked many, revealing a level of sharp self-awareness we didn't think he he possessed. On the topic of a prequel to "Inglourious Basterds" --which has been discussed, it's apparently half-written -- Tarantino admitted he has little follow-through when it comes to prequels, sequels, etc. "The ['Basterds' cast] love the [prequel] idea. I've got the storyline. Then again, I was going to do all these animated prequels to 'Kill Bill.' I didn't end up doing any of those."

On the heels of that talk , 'Basterds,' actor Eli Roth has added fuel to the fire revealing more details of the proposed flick including the idea for two sequels on top of a prequel (all of which is probably never going to happen, but it's fun to talk about and have enthusiasm for).

"Quentin has an entire universe planned out for 'Inglourious Basterds,'" said Roth. "With Aldo and Donny in Italy with a troop of black soliders. He has a whole prequel planned, and most of it is written. If the movie does well, he will make the prequel. I want to see a prequel. Both Brad and I want to be in it. Brad and I were in Cannes screaming, 'Prequel, prequel, prequel!' He even has two sequels planned. He's not necessarily going to make these movies. But he has at least four our five stories centering on these characters that span through the fifties and sixties. He knows exactly where these characters are going. He has this whole universe mapped out in his head."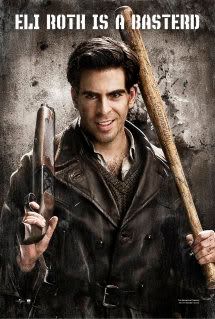 The idea of a story based on the Basterds and African-American soldiers reiterates Tarantino's earlier talk of a similar story. The director had also noted that "once the Basterds get through with Europe, they could go to the South and do it to the Kluxers in the '50s. That's another story you could tell" with talk of prequels even coming from Harvey Weinstein who added his two cents: "I've also read the stuff that's part of the prequel. I'm not tellin' you! [But] Brad wants to do 'Inglorious II.' We all want to do it. And the [original] movie hasn't even come out yet!"

Most of this depends on 'Basterds' being a runaway smash hit, which feels unlikely given how talky and non-actiony it is. Then there's Tarantino's level of procrastination and working slow. Sure, people might want to see this a year and a half from now, but sequels or prequels five years after the fact tend not to do so hot.

Don't hold your breath for any of this. Might we remind you of Tarantino's "The Vega Brothers" or again, the aforementioned animated "Kill Bill" sequels. Depending on who you believe, the director already has half or most of the prequel written and with Pitt, Roth and Weinstein behind him all the way, maybe he'll actually have the catalyst to develop it? Tarantino certainly rates the whole 'Basterds' saga highly though previously claiming with no uncertainty that 'Basterds' will get an Oscar nomination for Original Screenplay.

"Inglourious Basterds" comes out in theaters August 20th. [MovieWeb]