-AICN are reporting that "trusted sources" have told them that producers of "The Hobbit" are currently casting the dwarves, and that actor Brian Cox is in the running for a rolem, but as we haven't read the Tolkien tale since we were twelve so we have no idea what the actual role may be (and maybe the producers are just making a wishlist). Cox is a great actor, so it would be pretty fun to see him chew up some of the scenery in the films. As you may have heard, earlier this week speculation ran rampant that MGM was going to be to put up for sale, but just before weekend it was announced that the lenders have given the studio a reprieve until January 31st, to more or less, come up with a plan that will assuage shareholders that money will be coming in. We're guessing "The Hobbit" and "Bond 23" are central to those plans, which is why producers are continuing to forge ahead and we're guessing the March 2010 start date is still a go. But who knows what will happen between now and the end of January, and bear in mind, that MGM is also the same studio that though a remake of "Fame" was a great idea. Here's hoping they can sort out their shit, and we'll get to see what Guillermo Del Toro can do with this franchise.


-With John Woo's massive, five-and-a-half hour epic "Red Cliff" finally making its way to North American cinemas (although three hours shorter), the director is ready to talk new projects and has confirmed he's set to return to Hollywood for his next film, "Flying Tigers." The project, first talked about way back in 2008, is a Christopher McQuarrie-scripted WWII flick that tells the story of a volunteer fighter squadron assembled to to help the Chinese fight the Japanese before the U.S.'s involvement in WWII. At one point Tom Cruise's name was batted around as being attached the project, presumably in the role of Lieutenant General Claire Lee Chennault who commanded the flyers, but nothing formal has been announced. Woo is currently filming "Jianyu Jiangu" (aka "The Swordman's World") with Michelle Yeoh, which puts "Flying Tigers" starting, at the earliest, in mid-2010.

-Zach Galifianakis is set top off his career making year with an appearance on "Family Guy With An Alien" "American Dad." In the the episode, Galifianakis will be playing a My Morning Jacket superfan, who will also be doing a guest spot. The role isn't a stretch for Galifianakis who dropped by the band's epic, four hour Bonnaroo set and, dressed up as Little Orphan Annie, danced around the stage while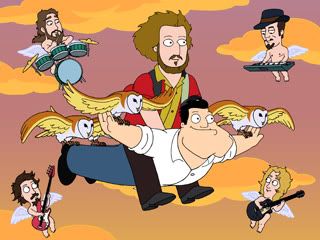 the band plowed through a cover of Motley Crue's "Home Sweet Home." Oh yeah, "American Dad" co-creator Mike Barker just happened to be at the show as well and once he came down from contact high from the copious amounts of pot being smoked, wrote this down in his idea journal. Galifianakis is currently attached to an insane amount of projects including "Due Date," "Dinner For Schmucks," "Town House," "It's Kind Of A Funny Story," "You Are Here" and (sadly) "Puss In Boots." And somewhere in there, he's also going to have to film episodes of his new, recently renewed HBO series "Bored To Death" (one of the best new comedies we've seen in ages.) Unless he's set to work every single moment of the next year, some of these are definitely going to have to fall by the wayside. Either that or he's looking to ace Matt Damon on the number of films he's going to put in the can next year. We just hope Galifianakis doesn't burn himself out.

-Ron Shelton, who directed one good sports film ("Bull Durham") and a handful of middling ones, is set to return the golf world (which he previously explored in "Tin Cup") with "Q School." In an interview with the Wall Street Journal, Shelton mentions that while the film does have Tim Allen and Dennis Quaid attached, golf movies have never been an easy sell, particularly overseas, and it currently has no financing. Shelton and producer David Friendly have sexed up the script of the film, set at the PGA Tour's excruciating year-end qualifying tournament, to include "a bombshell 17-year-old girl with a stage father trying to become the first female to qualify for the Tour (any resemblance to Michelle Wie is entirely conjectural), several studly young pros, one with a gorgeous mother for Mr. Quaid to pal around with, and a charismatic young Asian player with distinct similarities to the 18-year-old Japanese sensation Ryo Ishikawa." Sounds......wacky.If you're interested, please give Shelton or Friendly a call.