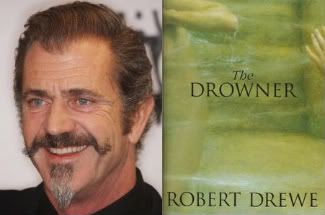 The governor of Veracruz, Mexico, Fidel Herrara has announced that Mel Gibson is set to return to the region in early 2010 to work on his next film. In January, part of the Ignacio Allende prison will be emptied, says Herrara, "because a grand production will be filmed there with our friend, the actor and producer Mel Gibson."
Gibson previously worked in Veracruz when directing his 2006 film "Apocalypto", and earlier this year he donated $1 million to the region and neighboring Chiapas to help replace storm damaged homes. Clearly, he loves the place.
While most outlets, in a rush to get the story up, have framed the production as being "a mystery," a visit to IMDB and a quick Google search later, leads us to believe the film is most likely "

The Drowner

."

Being produced by Gibson's

Icon Productions

in association with new kids on the block,

Impian Films

, "The Drowner" is based on the award winning novel by

Robert Drewe

about an engineer in the late 1880s. Here's the synopsis:

In Drewe's historical novel of Australia, Will Dance is an engineer in the 1880s, descended from a line of "drowners", men who irrigate dry lands. While at the public baths, Will swims into the love of his life, actress Angelica Lloyd, and together they travel to dusty western Australia, where Will succeeds in conveying water uphill 35 miles from its source. While experiencing the rough-and-tumble outback, gold rush mania, and a typhoid outbreak, they meet such characters as Axel Boehm, a photographer and chronicler; Inez, a bankrupt socialite turned nurse; Felix Locke, an undertaker with a poetic soul, whose longing for companionship is thwarted by the stigma of his profession.

According to the film's official website (last updated a while ago), "Mel Gibson,

Cate Blanchett

,

Liam Neeson

,

James McEvoy

and

Emily Blunt

are some of the cast already, or about to be, approached." We're pretty sure most, if not all of that cast is probably old news (and we'd be surprised if all of those names managed to be kept under wraps for this long, though that would be one helluva ensemble). However, over at Impian's own website, while casting news is nowhere to be found, a production start date of 2010 is listed. In addition, it's noted that John Collee ("

Master & Commander

," "

Happy Feet

," "

Creation

") has adapted the screenplay.

Our money is on "The Drowner" being the "mystery project" Gibson is working on. Mexico is probably a much cheaper alternative to shooting a period picture in the Australian outback, and given Gibson's familiarity and history shooting in the area, Icon is probably being given all kinds of incentives to bring their production to the state.

Now, whether or not Gibson will be in front or behind the camera (or both) remains to be seen, but with the actor/director heading there in a just a few weeks time, you can expect news of the film to come quickly.