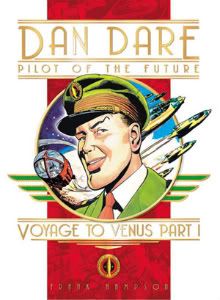 Another day, another role for Sam Worthington. As the lead of the biggest-grossing movie of all time, it was always inevitable that the Australian actor would be a hot ticket, and he already has three movies in the can: "Last Night," "The Debt" and the imminent "Clash of the Titans." In addition, he has been attached to the likes of "The Fields" and "Dracula: Year Zero" in recent months. He was also rumored to be playing "Flash Gordon" in a reboot of the campy space saga, but that was quickly debunked. However, Pajiba are now reporting that another space saga has caught the star's attention, "Dan Dare: Pilot of the Future."

The Warner Bros. project is based on the titular British science fiction comic hero, who originally appeared in The Eagle in 1950, and has gone through a variety of incarnations, including a Dave Gibbons-drawn, punk-inspired version set in 2000 AD in the 1970s, and a recent reboot for Virgin Comics by "Preacher" scribe Garth Ennis. The character is the chief pilot of the Interplanet Space Fleet, an adventurer reminiscent of characters from World War Two films of the period, and is driven by a fierce sense of morals and honor. He's surrounded by a colorful supporting cast, most notably his portly sidekick Digby, and Professor Peabody, and fought his arch-enemy The Mekon, the ruler of the Dreens.

From most sources, we'd take this with a pinch of salt - Worthington's been linked to everything of late, and seems like the automatic choice for any big action/sci-fi movie in development. However, Pajiba have been on a hell of a run with scoops recently, so we'd expect to see an official announcement any day now. Tonally, the property seems to need a certain Boy's Own, stiff-upper-lip quality, which doesn't quite seem to fit Worthington (Michael Fassbender in "Inglourious Basterds" mode would be perfect), but maybe this'll provide a good opportunity for the actor to show some range, and play something other than wide-eyed or gruff. Still, with no writer or director currently attached, this may be a way off yet.