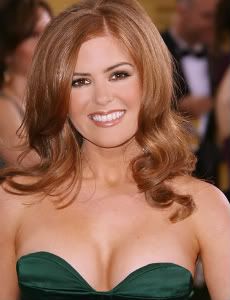 The attempt to create a female version of "The Hangover" has become a bit of a white whale for studio executives in the last year; the 2009 Black List was stuffed with crude, rowdy, lady-centric comedies. One such script was "Desperados," which Universal attached Isla Fisher to star in at the end of last year.

The plot follows a lovelorn woman who, when her new man fails to get in contact after they sleep together, sends him a furious email. It's only after that that she discovers that he's actually in a coma in a Mexican hospital, and she gathers her BFFs to head south and prevent him from reading her message. The project may now have a director in the shape of Wayne McClammy, best known for his work on "The Sarah Silverman Program" and on the viral smashes "I'm Fucking Matt Damon" and "I'm Fucking Ben Affleck" (in case you too were in a coma in a Mexican hospital in the early part of 2008, the former is embedded below. NSFW)

We weren't overly impressed by the script for this one, to be honest -- it's a neat concept, and funny in fits and starts, but shares the recent mini-trend in romantic comedies ("Bride Wars," "You Again," "Leap Year," "All About Steve") of making their central characters seem crazier than Sean Young, rendering them totally unsympathetic. Still, Fisher's undeniably talented, and hopefully they'll assemble a cast worthy of her, but having read the much superior, more enjoyable and funnier script (ok, it needs a third act, but it was an early draft), we'd put money on Judd Apatow's/Kristen Wiig's "Bridesmaids" being the one that comes closest to the success of "The Hangover."