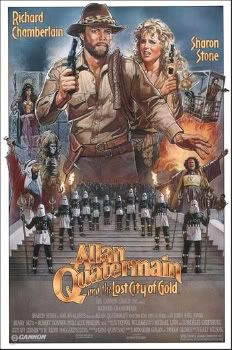 It seems like Sam Worthington misses shooting at CGI aliens. The Australian actor, and star of "Avatar" and "Terminator: Salvation," has started to move away from sci-fi with roles in the upcoming dramas "Last Night," "The Debt" and "The Fields," but most of the films that he's attached to in the future are returns to the big-budget tentpole world, with the likes of "Dan Dare" and "Dracula: Year Zero" on his slate. And now the star is taking on another hero of pulp fiction.

Worthington will star and, for the first time, produce, in "Quatermain," a sci-fi reboot of the classic H. Rider Haggard hero Allan Quatermain, the star of "King Solomon's Mines." Quatermain was originally a colonial game hunter and adventurer, but the new version, by writer Mark Verheiden ("Battlestar Galactica"), and producers Alfred Gough and Miles Millar ("Smallville"), relocates the character to the future, after Earth has been abandoned by humans.

It's a fairly baffling move to be honest -- it's not like Quatermain's a name which will have the teens, or indeed anyone, flocking to theaters (the Richard Chamberlain and Sean Connery performances aren't exactly iconic), and there doesn't seem much point in keeping it by translating him into the future. But, it could still turn out to be great; after all, Worthington's very charismatic, and Verheiden's written for that apex of broadcast television, "Heroes." Oh.